Blog
When in China, do as the Chinese do. learn Chinese, speak Chinese, talk to Chinese,live among Chinese: Be a part of it!
---
2014-11-27
The State Council, China's cabinet, has issued the most complete reform plan for schools and college enrollment and the examination system since the resumption of the college entrance exam (or gaokao) in 1978. ...[view details]
2014-11-27
Culture is the general concept of art, belief, the outlook of value, tradition and custom, and it can significantly reflect the characteristics of some societies, people, areas, or some countries. - See more at: http://www.0532study.com/learn_chines...[view details]
2014-11-25
Composed by German musician Robert Zollitsch and performed by his Chinese wife,fusion singer Gong Linna for 2013,the song You Don't Know Love Fai High became famous overnight and was given the term "Divine Comedy"by weiboers and other network us...[view details]
2014-11-25
Mandarin has Beijing pronunciation as its standard pronunciation, northern dialect as its basic dialect, and the typical modern vernacular Chinese as its grammatical standard.Mandarin offers convenience for communication between people at different ar...[view details]
2013-12-30
After we talked so much about learning Chinese, lets see the Chinese art at the Chinese park. In the Xinjiang Pavilion is located in theChineseParkof theWorldHorticulturalExpoPark. There is a Xinjiang style building. The square shape buildi...[view details]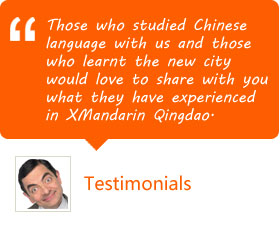 FAQ
Contact us
Shinan Campus: Floor 20th, Building A, Central international (zhonghuan) Plaza, No. 19 zhangzhou Er Lu, (Bank of China's uptairs), Qingdao
P: (86)532-88078385/85890993
EP: 13589278775
Skype:
Call me!
Email:
study@xmandarinchinese.com