Blog
When in China, do as the Chinese do. learn Chinese, speak Chinese, talk to Chinese,live among Chinese: Be a part of it!
---
2012-01-06
The Chinese zodiac is made up 12 animal symbols, long long ago,all the animals lined up on the bank of a river and were given the task of getting to the opposite shore, with the order set by the order in which the animals managed to reach t...[view details]
2011-11-10
China is the number one expat destination where careers falter, why? Language plays an important part! An approach can be succinctly defined thus: a skilled teacher, content, method and the students motivation. Having a good teacher is just...[view details]
2011-09-15
To many western business people, China in general, and the East Coast and Qingdao specifically, can seem like the Holy Grail of business oppotunities: a land of near limitless labour resources, an economy that is still growing and growing f...[view details]
2011-07-20
What makes ones person successful and another person not? How is it that seemingly educated, talented and skilled people fail while those who seem to possess very little of those qualities become successful? There is a reason why people bec...[view details]
2011-05-11
Its hard not to get annoyed with yourself or your tongue at least, when you start to learn a new language. Learning Chinese is no exception. You try to relate every sound to something similar that you know in your native tongue. However som...[view details]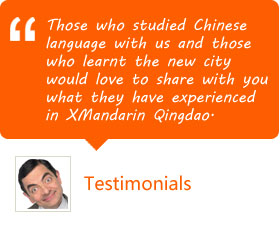 FAQ
Contact us
Shinan Campus: Floor 20th, Building A, Central international (zhonghuan) Plaza, No. 19 zhangzhou Er Lu, (Bank of China's uptairs), Qingdao
P: (86)532-88078385/85890993
EP: 13589278775
Skype:
Call me!
Email:
study@xmandarinchinese.com