Blog
When in China, do as the Chinese do. learn Chinese, speak Chinese, talk to Chinese,live among Chinese: Be a part of it!
---
2013-12-21
If you are going to study Chinese in China, or other purpose to short/long term stay in China, please read the following police carefully, you will find some new visa categories. Visa Category Description of Visa C: Issued to foreign crew m...[view details]
2013-02-07
不同民族、不同宗教的人们遵守着不同的礼仪和生活习惯。有着5000年历史的中华文明源远流长,承载着中华民族千年来的文化血脉和思想精华。随着中国对外开放的步伐日益加快,国际...[view details]
2013-01-19
The exchange rate: USD/RMB 1 dollar=6.3RMB, EURO/RMB 1 euro=8.2RMB(2012) Although prices in China are rising, the cost of living still compares favorably to most industrialized countries. You will be amazed by how comfortably you can live a...[view details]
2012-06-13
No matter how long youve studied Chinese, there are efficient and not so efficient ways of tackling the language. Since you are already on such a tough journey, why not take the path with the biggest pot of gold at the end? Some things are...[view details]
2012-04-04
Learning Chinese characters Reading and writing the Chinese script is particularly challenging to learn because it consists of a multitude of complex characters. Each character represents both sound and meaning. Usage of Chinese characters...[view details]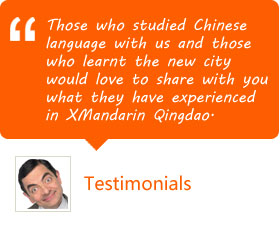 FAQ
Contact us
Shinan Campus: Floor 20th, Building A, Central international (zhonghuan) Plaza, No. 19 zhangzhou Er Lu, (Bank of China's uptairs), Qingdao
P: (86)532-88078385/85890993
EP: 13589278775
Skype:
Call me!
Email:
study@xmandarinchinese.com