Make This Summer Special!
Summer is coming!
It's a good time to start your Chinese journey.
01 for NEW STUDENTS
Come to XMandarin to consult our courses to get
¥ 25 voucher of Sondov
XMandarin Map
Book our courses to get Red envelope
( maximum ¥500)
for CURRENT STUDENTS 02
Book new classes and continue to study to get:
maximum
6 lessons
¥ 25 voucher of Sondov
What are you waiting for? Hurry up!
你还在等什么呢? 快来XMandarin报名吧!
We hope to see you soon!
---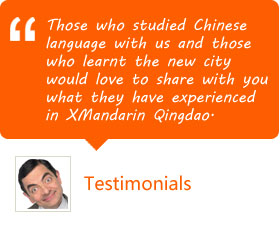 FAQ
Contact us
Shinan Campus: Floor 20th, Building A, Central international (zhonghuan) Plaza, No. 19 zhangzhou Er Lu, (Bank of China's uptairs), Qingdao
P: (86)532-88078385/85890993
EP: 13589278775
Skype:
Call me!
Email:
study@xmandarinchinese.com