来一场传统美食之旅吧~!Let's go to a traditional Country Fair!
Are you going to Scarborough Fair ?
No!We're going to Tánɡqiú Huì Fair!
What is "Tánɡqiú Huì"?
"糖球会"究竟是何方神圣?
different kinds of"冰糖葫芦(Bīnɡtánɡ Húlú)",sugar-coated haws
more commonly called "糖球(tánɡqiú)" in Qingdao
在青岛,每年的正月十五左右,有一场盛大的集市,就是我们说的"糖球会"。在这里,你可以看到传统的胶东民俗表演,吃到来自全国各地的特色小吃。
"Tangqiuhui"is a grand event after the Chinese New Year. It's considered as the most important traditional event in Qingdao. In this Fair, you could watch traditional culture shows,and eat special snacks from all over the country as well.


some snack you may see on the fair

How can I go?
糖球会在哪儿?我能去吗?
这个星期五,XMandarin也要去糖球会啦!
快来加入我们吧,也欢迎带上你的外国朋友们一起参加。
This Friday, XMandarin invite you to join us.Let's go to Tánɡqiú Huì together!

please feel free to bring your foreign friends together


---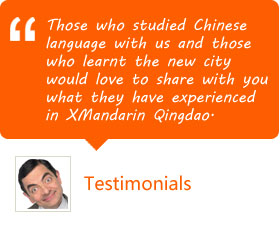 FAQ
Contact us
Shinan Campus: Floor 21th, Building A, Central international (zhonghuan) Plaza, No. 19 zhangzhou Er Lu, (Bank of China's uptairs), Qingdao
P: (86)532-88078385/85890993
EP: 13589278775
Skype:
Call me!
Email:
study@xmandarinchinese.com