嘿!你的饺子好吃吗?Hey, how's your dumplings?
天寒地冻,挡不住各位好学的"吃货"们爱吃的心。上周六,XMandarin的吃货同学们相聚一堂,包饺子,吃饺子,其乐融融,好不热闹。
Though the weather is frozen, 'foodie' will never stop trying new food. Last Saturday, 'foodies' from XMandarin joined the Dumplings Making event. We made, cooked dumplings and other Chinese food together,had really nice and harmonious lunch time.
诞生于1800多年前的饺子,是中国最重要的传统食物之一。在除夕夜吃饺子,是中华民族的春节重要习俗。在北方,我们也在立冬和冬至吃饺子,以此来祈愿一个温暖、健康、圆满的冬季。
As one of the most important traditional food in China,饺子(jiǎozi) was invented about 1800 years ago. It 's a tradition to eat 饺子(jiǎozi)on Chinese New Year's Eve(除夕Chúxī ), and in the northern part of China, people also eat it when the winter begins and on the winter solstice, to wish a warm and happy winter.
我们的挑战开始啦!
Let's do it!!!
---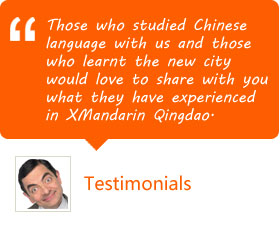 FAQ
Contact us
Shinan Campus: Floor 21th, Building A, Central international (zhonghuan) Plaza, No. 19 zhangzhou Er Lu, (Bank of China's uptairs), Qingdao
P: (86)532-88078385/85890993
EP: 13589278775
Skype:
Call me!
Email:
study@xmandarinchinese.com