Come join us at XMandarin!
Every month XMandarin prepares a gift to welcome new students. Since we not only want to improve your Chinese, but also help you understand Chinese culture a bit better, these gifts often do just that. This month the present is a beautifully illustrated calendar with both the Chinese and the Gregorian dates.
A team of 50 people worked on this calendar for 300 days, travelling across China to create 377 stunning and culturally meaningful illustration who are sure to brighten up your day every time you turn a page.
The theme is: from south to north, from east to west, from mountains and rivers to fields, from the city to the village. The pictures portray traditional Chinese sceneries, architecture and customs. There is also a fun free calendar app included which brings some illustrations in the calendar to life.
Next to the 365 days calendar it also shows the Chinese calendar system. When living in China It's convenient to be up to date with the Chinese date to keep up with the Chinese traditional festivals. This calendar will help you to do just that.
A little gift is waiting for you in our office if you swing by to ask for information about our classes. On top of that you will receive the beautifully illustrated calendar once you book classes. It will help you to never forget your new Chinese classes and our fun monthly events!
Hope to see you soon!
For more information, please contact us by phone or e-mail.
0532-85890993/88078385
study@xmandarinchinese.com
---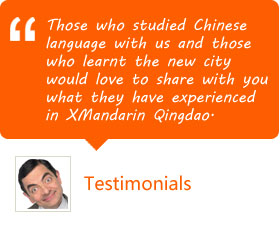 FAQ
Contact us
Shinan Campus: Floor 20th, Building A, Central international (zhonghuan) Plaza, No. 19 zhangzhou Er Lu, (Bank of China's uptairs), Qingdao
P: (86)532-88078385/85890993
EP: 13589278775
Skype:
Call me!
Email:
study@xmandarinchinese.com