【November Gift】Time to "Xué Hànyǔ" again!
天气越来越冷,也越来越干燥啦!
这个处处刮着大风的季节,还有比在家里读书学习更好的选择吗?
The weather is getting colder and drier!
Is there any better option than learning some knowledge indoors in this cold weather?
一本书,一支笔,一杯咖啡或茶,还有什么是你学习的好伴侣?
A book, a pen, and a cup of coffee or tea, what else do you need?
当然是一个加湿器啦!在干燥的天气里给你一点湿润的问候。
A Moistener !
Just come and consult the course
(new students) ,
or book new classes
(current students) ,
You could get the tea for free.
What are you waiting for? Hurry up!
你还在等什么呢? 快来XMandarin报名吧!
We hope to see you soon!
---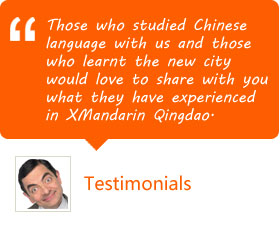 FAQ
Contact us
Shinan Campus: Floor 20th, Building A, Central international (zhonghuan) Plaza, No. 19 zhangzhou Er Lu, (Bank of China's uptairs), Qingdao
P: (86)532-88078385/85890993
EP: 13589278775
Skype:
Call me!
Email:
study@xmandarinchinese.com