Who Is the Valliant ? 攀岩,谁最厉害?
趁天气还不太冷,上周五,XMandarin的老师和学生们一起去攀岩啦!
Taking advantage of the last warm days, teachers and students went rock climbing last Friday!
大家都玩儿得很开心,展现出了让大家惊叹的体力和活力~
Evevybody was having a good time and to our big suprise, you students showed amazing vitality and energy~
来看看他们的表现吧!
Let's take a look at their performance!
怎么样,看起来有趣吗?下次,你也一起来吧~
How do you feel about it ? If you are interested, why not join us next time?
---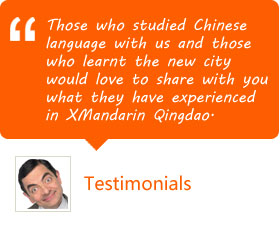 FAQ
Contact us
Shinan Campus: Floor 20th, Building A, Central international (zhonghuan) Plaza, No. 19 zhangzhou Er Lu, (Bank of China's uptairs), Qingdao
P: (86)532-88078385/85890993
EP: 13589278775
Skype:
Call me!
Email:
study@xmandarinchinese.com