中华有神功!Amazing Kungfu in China!

亲爱的小伙伴儿们,你们一定听说我们的功夫活动了吧!
你有没有报名参加呢?
这次的活动内容丰富有趣,来参加的同学都玩得很开心。
Dear friends,You must have noticed our Kungfu activity!
Did you joined it? The Kungfu class was favourable and interesting. We all had a great time and enjoyed it~
活动开始,XMandarin的张老师先为大家讲解了关于中国功夫的一些历史文化知识。
Alice told us knowledges about history and culture of Chinese Kungfu .
大家听得可认真啦!
文化课结束后,大家就集体前往专业的武馆,接受专业的武术指导啦!
After the cultural lesson, we went to a professional Martial art hall and started our journey of kungfu training!
师傅首先为我们展示了他不得了的功力。
The Master showed his power.
看看我们的架势也不错吧?
Don't they look skilled?
跟师父切磋起来也是毫不示弱!
And never afraid to hava a competition with the master!
怎么样,看起来有趣吗?下次,你也一起来吧~
How do you feel about it ? If you are interested, why not join us next time?
八月我们将举办书法活动,
期待你的参加!
August Event:Calligraphy class
Looking forward to seeing you!
See you next time!!
---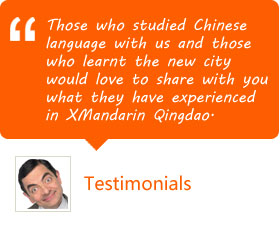 FAQ
Contact us
Shinan Campus: Floor 20th, Building A, Central international (zhonghuan) Plaza, No. 19 zhangzhou Er Lu, (Bank of China's uptairs), Qingdao
P: (86)532-88078385/85890993
EP: 13589278775
Skype:
Call me!
Email:
study@xmandarinchinese.com