【EVENTS】中国功夫了解一下?Ready for getting to know some KUNGFU?

21 Jul // 13:30 // Chinese Kungfu
↑↑↑ Do you know him ?
Don't you want to be a warrior like him?
or…
be like them?
Here's the opportunity!!
CHINESE KUNG FU CLASS
中国功夫体验课
中国功夫文化课 + 专业老师指导的实战课
Cultural Lesson + Practical Training Lesson
在这次的活动中,你不仅可以接受来自专业武术老师的亲自指导,还能通过免费的文化课了解更多关于中国功夫的文化,学会相关的语言知识。
In this event, you can not only receive personal guidance from professional martial arts teachers, but also learn more about Chinese Kung Fu culture and language knowledge through free cultural lessons.
前十个报名功夫体验课的同学,还可以免费参加这次的课程哦!
The first ten applicants can also participate for free!!
Seats are limited, Hurry Up!


Event Fee/活动费用
Cultural Lesson:
free, everyone who attend will get a gift
免费参加,到场试听都有小礼物赠送。
Practical Lesson:
100 RMB per person, The first 10 applicants is free of charge .
100元 /人,前十位报名可免费参加
(This is a complimentary activity but there is 50 RMB deposit required to reserve your place in this event. The deposit will only be returned to you when you present to the activity and vice versa. )
Hope to see you there!
---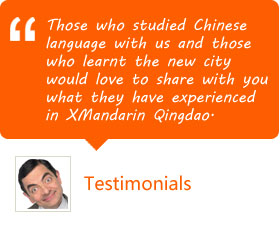 FAQ
Contact us
Shinan Campus: Floor 20th, Building A, Central international (zhonghuan) Plaza, No. 19 zhangzhou Er Lu, (Bank of China's uptairs), Qingdao
P: (86)532-88078385/85890993
EP: 13589278775
Skype:
Call me!
Email:
study@xmandarinchinese.com