A Nice & Relaxed Afternoon
XMandarin open our door to host you and your friends in a relaxed afternoon, enjoy over for Traditional Chinese Painting class!
In this class you will get to learn how to paint a Traditional Chinese Painting in a traditional way.
The event will take around 2 hours.
Everyone will get a seal and a mounted works.
Date: 22th November , Wednesday 2017 (Wednesday)
Starting Time: 2:00 PM
Price: 80RMB/Person
How to register:
1. Register at the reception desk on 20F and pay then.
2. Tell Your teacher or Celine & Elsa via WeChat then pay via wechat.
We will prepare a seal with the student's name for everyone who will join, therefore please register ASAP
The deadline will be on 22th November
Thank you all!
If you have any questions or want to sign up, please contact Celine & Elsa
WeChat:
Celine: 18661873212
Elsa: 40230430
E-mail: service@xmandarinchinese.com
---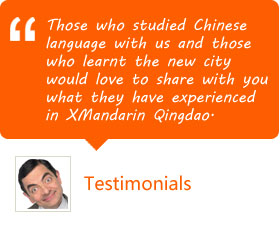 FAQ
Contact us
Shinan Campus: Floor 20th, Building A, Central international (zhonghuan) Plaza, No. 19 zhangzhou Er Lu, (Bank of China's uptairs), Qingdao
P: (86)532-88078385/85890993
EP: 13589278775
Skype:
Call me!
Email:
study@xmandarinchinese.com