Chinese Mooncake Making! 这个中秋节的月饼,我自己做!
24 September // 10AM // XMandarin Chinese Center
Hey XMandarin Students!
This month on September 24th we will be baking "Chinese Mooncakes".
Mooncaks are a traditional Chinese food to eat during the Mid-autumn Festival. We will be baking them at a local bakery near Taidong here in Qingdao, and it will cost 100RMB to participate (includes all the ingredients and a box of mooncake with 8 pieces of mooncake).
We will meet at XMandarin at 10AM and it will last until 12:30PM. Also, feel free to bring your foreign friends, even if they don't attend XMandarin.
We have these monthly activities for people to make friends, mingle and most importantly have fun!
To take part in this event, please contact Jessy (WeChat: july0718 / Tel: 158-1072-6263) or stop by our office on the 16th floor or inform at our front desk on the 20th floor.
See you there!!
---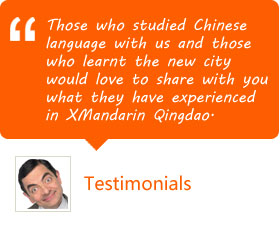 FAQ
Contact us
Shinan Campus: Floor 20th, Building A, Central international (zhonghuan) Plaza, No. 19 zhangzhou Er Lu, (Bank of China's uptairs), Qingdao
P: (86)532-88078385/85890993
EP: 13589278775
Skype:
Call me!
Email:
study@xmandarinchinese.com