Tea Culture
China is the homeland of tea Chinese tea has become an indispensable and important part in people's daily lives. The development of the tea stands for a culture showing the characteristics of Chinese people.
The story of tea begins in China. According to legend, in 2737 BC, the Chinese emperor Shen Nong was sitting beneath a tree while his servant boiled drinking water, when some leaves from the tree blew into the water. Shen Nong, a renowned herbalist, decided to try the infusion that his servant had accidentally created. The tree was a Camellia Sinensis, and the resulting drink was what we now call tea.
---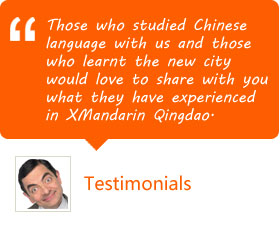 FAQ
Contact us
Shinan Campus: Floor 20th, Building A, Central international (zhonghuan) Plaza, No. 19 zhangzhou Er Lu, (Bank of China's uptairs), Qingdao
P: (86)532-88078385/85890993
EP: 13589278775
Skype:
Call me!
Email:
study@xmandarinchinese.com