Moon Cakes are ready! 中秋节快乐!(月饼也准备好啦XD)
明天就是中秋节了,大家节日有什么打算呢?
甜甜的月饼应该已经准备好了吧?
Tomorrow is the Mid-Autumn Festival. What are your plans for the festival?
Moon cakes should be ready!
(I don't know about yours.but)
Theirs are ready!
上周三,XMandarin的同学们一起参加了月饼活动,
听了关于中秋节的故事,制作了不同口味的美味月饼。
让我们一起来看看吧~
Last week, we took part in the mooncake making activity held in XMandarin. The students listened to the stories about the Mid-Autumn Festival, and make 4 types of mooncakes.
怎么样,看起来有趣吗?下次,你也一起来吧~
How do you feel about it ? If you are interested, why not join us next time?

See you next time!!
---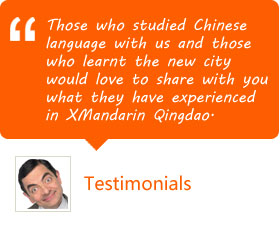 FAQ
Contact us
Shinan Campus: Floor 20th, Building A, Central international (zhonghuan) Plaza, No. 19 zhangzhou Er Lu, (Bank of China's uptairs), Qingdao
P: (86)532-88078385/85890993
EP: 13589278775
Skype:
Call me!
Email:
study@xmandarinchinese.com