Mooncake Making!来做月饼吧!
中秋节,又称八月节、玩月节等,是流行于中国众多民族与汉字文化圈诸国的传统文化节日,时在农历八月十五;因其恰值三秋之半,故名。中秋节时,人们齐聚家中,赏月,吃月饼,共享家庭的欢乐。
The Mid-Autumn Festival, also known as the August Festival and the Moon Festival, is a traditional cultural festival popular among many ethnic groups in China and the Chinese character culture circle. It was on the 15th day of the lunar calendar; it was named after the half of the autumn. During the Mid-Autumn Festival, people gather at home, enjoy the moon, eat moon cakes, and share the joy of the family.
所以,本月我们的做月饼活动就要来啦!快跟你的小伙伴儿们一起,学做月饼,吃自己做的月饼吧。你也可以把你做的月饼送给朋友,一起分享和庆祝中秋节哦。
This month our Moon cake Making Event is coming! Come with your friends, learn to make moon cakes, and eat your own moon cakes. You can also give your friends moon cakes to share and celebrate the Mid-Autumn Festival.
朋友,约吗?I'm waiting for you~!

---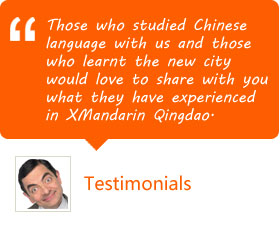 FAQ
Contact us
Shinan Campus: Floor 20th, Building A, Central international (zhonghuan) Plaza, No. 19 zhangzhou Er Lu, (Bank of China's uptairs), Qingdao
P: (86)532-88078385/85890993
EP: 13589278775
Skype:
Call me!
Email:
study@xmandarinchinese.com